8 Signs It's Time For Senior Living
June 2023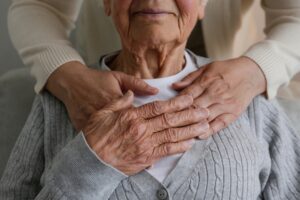 8 Signs It's Time For Senior Living
 Wondering whether it's the right time for a loved one to transition to a senior living community? Initiating this conversation can be delicate, and determining the appropriate timing can be challenging.  
 Although distinct indicators suggest a parent or elderly loved one is ready for senior living, each situation can differ. Please continue reading to discover more about senior living and the signs that indicate your special someone requires the support it provides. 
 WHAT IS SENIOR LIVING (AND WHAT IT ISN'T?) 
There is a common misconception that senior living communities focus solely on offering round-the-clock medical care to residents. While they often include medical and physical therapy services, communities, such as Leakesville Rehabilitation & Nursing Center, offer much more than just patient care. They have evolved to meet the changing needs and attitudes of seniors by striving to meet the expectations of a senior living lifestyle, encompassing a wide range of benefits for residents. This includes opportunities for socialization, maintaining a fulfilling lifestyle, engaging cognitively and much more. 
 Everyday Activities, Amenities & Features of Top Senior Living Communities: 
Socialization opportunities and group activities to form friendships with fellow residents and staff while promoting visits from their family and friends outside the community  

 

Leisure activities that cater to physical and cognitive engagement

 

Provides opportunities to explore new hobbies or enjoy existing ones

 

Hosts events that involve family and friends for holidays and celebrations

 
 IT MIGHT BE TIME TO CONSIDER SENIOR LIVING IF… 
No one enjoys moving a parent or loved one from their home to a senior living community. However, certain signs can help you make an informed decision. Whether you're worried about your loved one living alone and taking care of themselves, or you're a caregiver who recognizes the need for a change, here are eight signs that suggest it may be time to consider senior living. 
1️⃣ ISOLATION 
If your loved one exhibits symptoms of depression or feels isolated and alone, it may be time to discuss senior living. Seniors often find it challenging to drive and venture out less, leading to feelings of loneliness and isolation. Senior living communities provide a wide range of activities and opportunities for social interaction, which can significantly improve your loved one's mood and quality of life. 
2️⃣ DIFFICULTY MANAGING DAILY LIFE 
Does your loved one struggle with everyday activities? Simple tasks like housework, cooking, or even remembering to take medications can become overwhelming for seniors. They do not need to bear the burden alone—find a place to relax and never worry about daily tasks they may find challenging. 
3️⃣ POOR PERSONAL HYGIENE 
Personal hygiene often deteriorates for seniors experiencing chronic pain, a low mood, or the onset of dementia. Some seniors may neglect bathing or grooming, though when they do, it may need to be more thorough. When it becomes evident that your loved one can no longer care for their basic needs, it is time to discuss moving into a senior living community. It is not solely a matter of health but also an essential conversation about aging with dignity. 
4️⃣ DECLINING HEALTH  
Chronic health problems or declining health pose significant concerns for seniors. Seniors who take longer to recover from illness or injury may exhibit signs of a compromised immune system. Those with declining health may soon require more care, such as full-time assistance in a senior living community, which can improve their well-being. They must receive the professional attention necessary to ensure their health and safety. 
5️⃣ POOR FINANCIAL JUDGMENT 
Seniors experiencing memory loss, forgetfulness, self-neglect, or even elder financial exploitation may struggle to keep up with bills or engage in uncharacteristic overspending. If you notice your elderly loved one making questionable financial decisions, it is time to address their current living situation. 
6️⃣ CHANGES IN MOBILITY 
Have you observed changes in your loved one's mobility, such as difficulty walking or navigating stairs? Instead of risking slip and fall accidents or, worse, fatal falls, consider transitioning to a senior living community designed to provide in-house physical therapy and safeguards that address mobility concerns. 
7️⃣ INCREASE IN ANXIETY OR PARANOIA 
Anxiety and paranoia are real mental health challenges for seniors. Whether caused by the onset of dementia, stress, or the common changes older adults face, moving to a senior living community can provide a sense of ease for your loved one. In a welcoming, comfortable, familiar, and safe environment, seniors are less likely to experience anxious or intrusive thoughts. 
8️⃣ OTHER PERSONALITY CHANGES 
Personality changes in aging individuals can be attributed to various factors, particularly dementia. If you notice your loved one becoming aggressive or agitated, it may result from confusion and dementia. A senior living community can offer cognitive support and personalized memory care for those in need. 
THE SUPPORT SENIORS NEED TO AGE WITH DIGNITY 
Most people desire to spend their final years in their own homes, and it is difficult for families to accept that this may not be feasible. If you have noticed any of the signs mentioned above in your loved one, understand there is a beautiful and safe community with well-trained professionals and caring staff ready to assist you. 
Reach out to the Leakesville Rehabilitation & Nursing Center team today to discover how we can support you during this time. 
More Stories
---
International Infection Prevention Week
September 2023 | General
October 15-21 is International Infection Prevention Week. Observed each third week of October, it brings attention to the role infection…
Gastroparesis Awareness Month
September 2023 | From our Desks
Gastroparesis is a disorder in which the stomach empties very slowly. This delay can result in bothersome symptoms that interfere…
Ovarian Cancer Awareness Month
September 2023 | Awareness Day
September marks Ovarian Cancer Awareness Month, a crucial time to delve into understanding this disease and to share vital knowledge…